Robert P. Dymont - Director of Franchising & Recruiting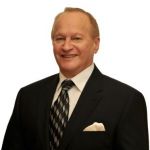 Robert brings an impressive resume having developed and expanded some of the most well known real estate organizations in North America including RE/MAX, Sutton Group, and Realty World Corporation. Robert has an incredible track record for successfully identifying and capitalizing on market opportunities to drive revenue growth, expand market penetration and win dominant market share by creating innovative business opportunities. Robert is the perfect fit for the 2% Realty business model, as in real estate, he's done nothing but overthrow the status quo for the past three decades.
Robert, who currently resides in Vancouver, BC played a general's role in building RE/MAX in the mid to late '80s, which drastically reshaped the way Real Estate Agents operate by changing the way they earn commissions. Less than 30 years after it was born, RE/MAX was the top-selling realty firm in the world. Dymont then took on the role of CEO of Sutton Group, leading that outfit from upstart to the No. 2 spot in Canada by again changing the rules of engagement by tweaking the way Real Estate Agents are paid.
With his irrefutable reputation as a franchise builder, Robert has never been short of offers from entrepreneurs who think they're the next game changer and want him to help them build their business. Yet for the past 13 years, since his last assignment ended – taking the top job at Realty World, a 15,000-agent international firm that he turned around and sold off in parts – he's turned all these offers down; until joining 2% Realty. "Everyone else is trying to reinvent the wheel," he says of the other entreaties he's received from real estate entrepreneurs. "This is different; this is the future. Our timing is good."
Robert couldn't agree with Roy Almog more, who said "20 years ago, there was no Internet, no BlackBerry's or iPhones. Real Estate Agents had to use binders, pick a few listings they thought their clients would like, then drive them around. They earned their commissions. Today the typical client looks at the MLS® System themselves, drives by to look at the properties, and then calls the Real Estate Agent if they want to go inside. Technology has made the job a lot easier, but the commission rates haven't come down." 

If you are curious about 2% Realty and wish to speak with Robert directly regarding Franchising & Recruiting, please feel free to contact him at 604.603.0203 or robert.dymont@2percentrealty.ca